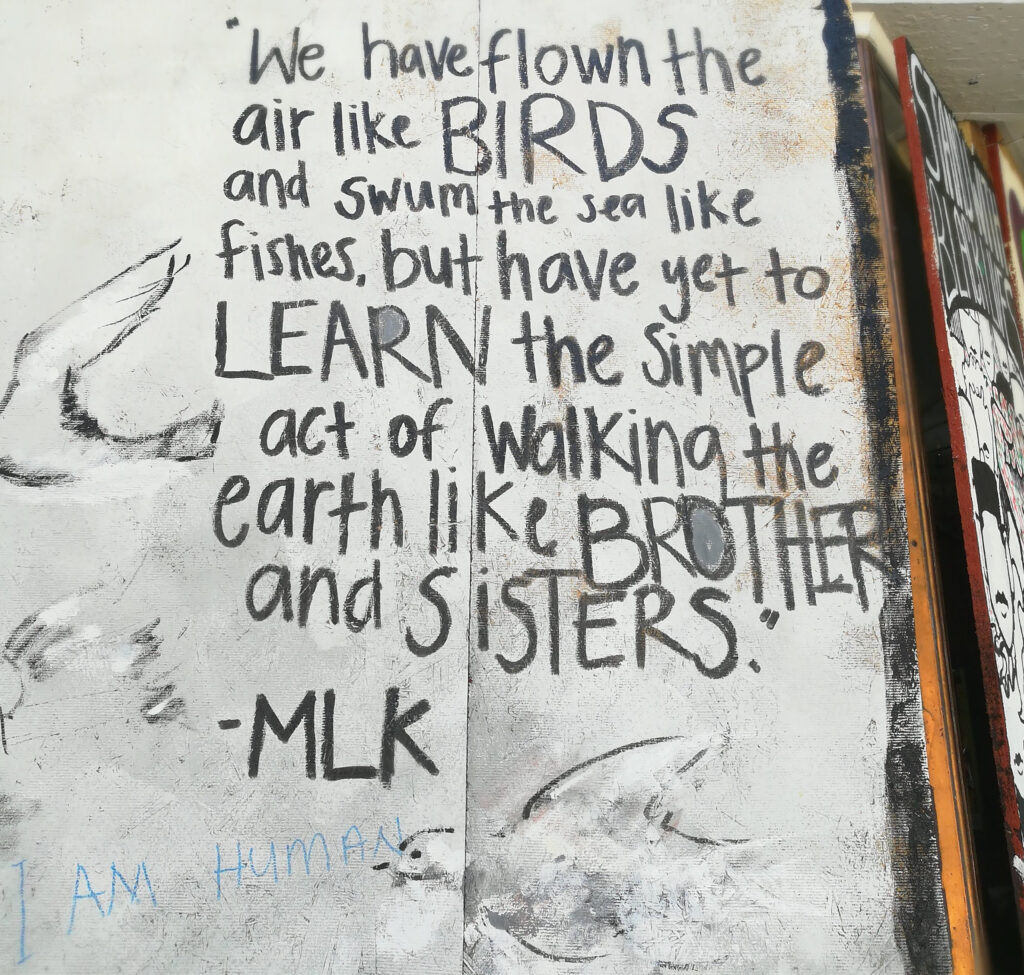 In this final of four blog posts on suffering and transformation, I wanted to explore how hardship is the crucible for helping us become our higher selves. A crucible is a container where objects are subjected to great heat so they can be remade. The lives of great change agents, people who became great souls and transformative leaders, were shaped by suffering that they transformed into immense good.
Take Gandhi. Gandhi was a young lawyer during the colonial British Empire. He tried hard to make it in the system. As a young man, he set out to become a barrister in London. Having passed the bar, the young lawyer was engaged for an assignment in apartheid-era South Africa. On a journey, he purchased a first-class ticket and, dressed smartly in a Western suit, claimed his seat. A fellow passenger complained about his presence in the cabin to the conductor. When asked what he was doing there. Gandhi produced his ticket and credentials which was met with a sneer; he was told that only Whites could sit in a first class cabin. When Gandhi refused to budge, he was thrown off the train into the cold night. Shivering on a deserted platform, Gandhi had an awakening about discrimination. It could have turned to hate, but it didn't.
Nelson Mandela, perhaps the greatest leader in recent times, spent 27 years jailed by the government on an isolated island in South Africa. He emerged with a powerful message about reconciliation that steered South Africa to a remarkably peaceful transition to democracy. Martin Luther King, Jr. too was repeatedly beaten and imprisoned in the struggle for equality in the US. He was consistent in his call for freedom and love. In each of these lives, great injustice led not to anger and revenge but empathy and compassionate action. Why did this happen? Here's what I see.
Gandhi, Mandela, Martin Luther King, Dalai Lama, Mother Teresa and others known for compassionate actions spent much time in contemplation that radically transformed how they experienced the world and engaged in it (see the story of the Laughing Buddha — https://spiritualsushi.com/the-way-out-of-suffering-lies-within-part-3-on-transforming-suffering/).
In an interview, Mandela was asked how it was that he came to embrace forgiveness and reconciliation after all that had been done to him by the apartheid regime. He explained that his many years alone and in silence in prison had enabled him to see his own soul, his own failings, and need for forgiveness. In this encounter with his soul, he became committed to the path of forgiveness and reconciliation for all peoples.
Gandhi expressed this very idea as Satyagraha or truth-force which encompasses three principles:
Satya/Truth – commitment to openness, honesty and fairness
Ahimsa/Nonviolence – the refusal to inflict injury upon others
Tapasya/Sacrifice – a willingness to sacrifice oneself in action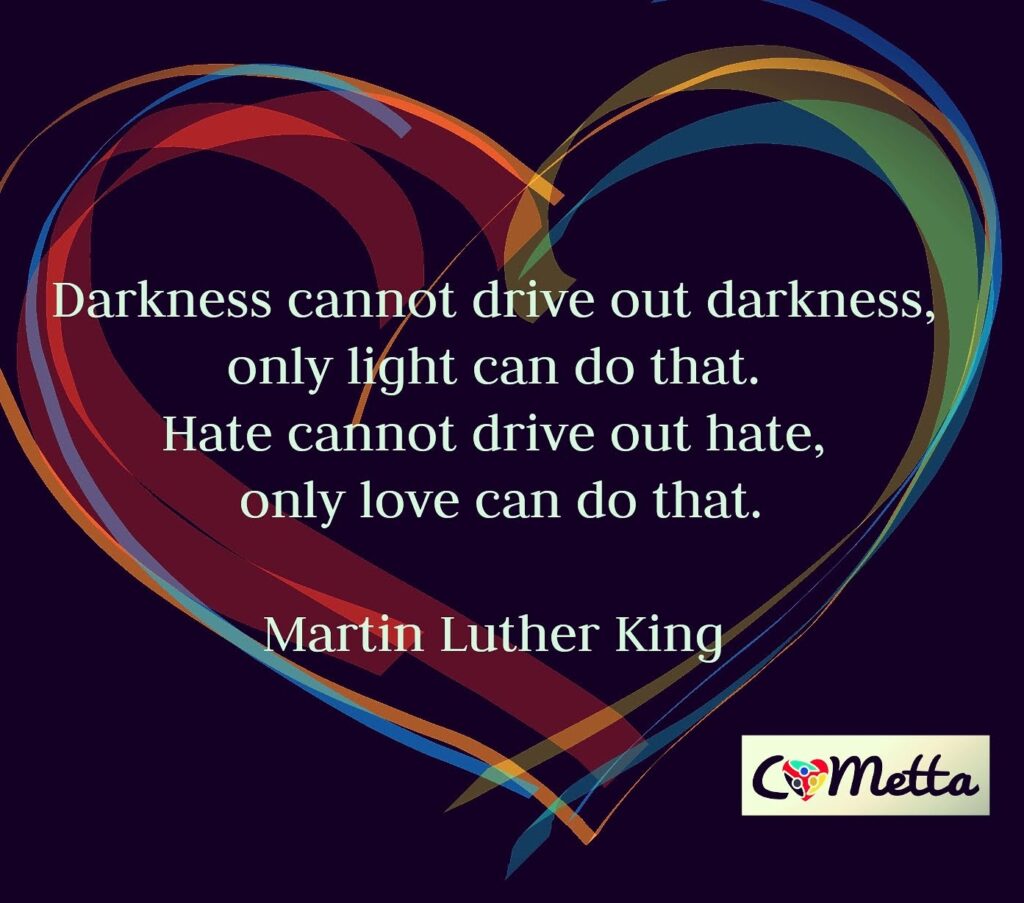 Sacrifice in Satyagraha is a test of love. Martin Luther King explained: "Through nonviolent resistance we shall be able to oppose the unjust system and at the same time love the perpetrators of the system." This alchemy of turning bad into good is connected to practice of "attend and befriend" (https://spiritualsushi.com/attend-befriend-part-2-engaging-transforming-suffering/) discussed explored in an earlier post.
In contrast, many other freedom fighters channel exploitation and inequality into rage. They turn adversity into a call to defeat the adversary by any means "necessary." In the bargain, they can lose their soul and start to mirror much of what they started out fighting against. 
Great change agents, in contrast, operate from a place of oneness and love for all people, even their adversaries (https://spiritualsushi.com/one-love/). Martin Luther King stated, "We are caught in an inescapable network of mutuality, tied in a single garment of destiny. Whatever affects one directly, affects all indirectly." Martin Luther King believed that it is possible to resist evil without resorting to violence and hate: "The nonviolent resister not only refuses to shoot his opponent but he also refuses to hate him." Elsewhere he said, "In your struggle for justice, let your oppressor know that you are not attempting to defeat or humiliate him, or even to pay him back for injustices that he has heaped upon you." 
This path seeks the high ground and is willing to take the long road. There is the belief that ends don't justify the means and that justice can take time to unfold. As MLK eloquently stated, "the arc of the moral universe is long, but it bends toward justice." Nonviolence is the path chosen not because it is easy or expedient but because it is morally right.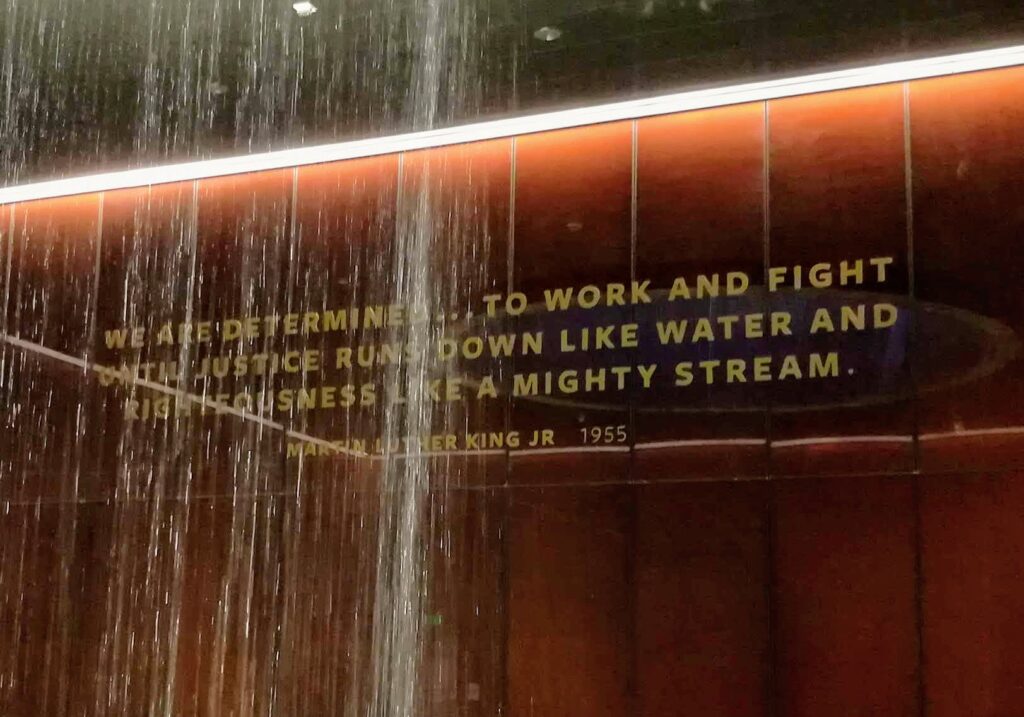 With this moral clarity, these great change agents were willing to put themselves on the line. They led from the front, by example, in protest marches and public fasts, being beaten and imprisoned, and, as in the case of Gandhi and Mandela, encountering a violent death at the end. The day before his assassination and perhaps anticipating his end, MLK acknowledged difficult days ahead and said, "it really doesn't matter, because I've been to the mountaintop." 
Martin Luther King, Gandhi, Mandela, the Dalai Lama, and Mother Teresa made the difficult journey up the mountaintop of freedom and justice with love and grace because they also simultaneously journeyed up an inner mountain to rendezvous with the soul within. To truly "be the change you want to see in the world," you have to authentically become it. Gandhi's words are a call to action and a call to our own transformation.
Further back in time, another agent of liberation, the Buddha, made a similar call. He indicated that he would be reborn until all beings were free. I believe he was calling us to be reborn as Bodhisattvas of liberation much like the great change agents. Like other great souls, he demonstrated that the way to create our capacity for courage and compassion in the world is through inner work. This was work, the Buddha said, that we must each do for ourselves:
No one saves us but ourselves
No one can and no one may
We ourselves must walk the path
Buddhas only show the way
As someone who has spent a lifetime working on social change, I am challenged by the examples of these great souls and the way they pointed to. Moved by suffering they saw in the world, they stepped up to address injustice at great personal risk. The difficult struggles they waged were powered not with anger and hate but with compassion and love. And– ultimately — they sought not just liberation from injustice in the world, but liberation from the animosity that suffering can create within us. Through their lives, these great souls shine a light on the path to fostering great change and liberation. It is a path that flows from within us into the world. It is a journey towards love made in the company of the soul. It is a journey that they beckon us to join. In doing so, our suffering is transformed into grace, a sacrifice offered on the highest altar of love. 
Following this series on suffering, I'll turn to the other side of the coin — the pursuit of happiness. I welcome your insights and experience on the nature of suffering and the path of transformation.

RELATED POST

One Love: What's Love Got to Do with Liberation?
https://www.linkedin.com/pulse/one-love-whats-got-do-liberation-lyndon-rego/